Terms for Carriage
Views: 6 Author: Site Editor Publish Time: 2018-05-18 Origin: Site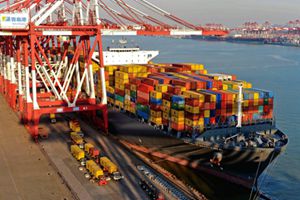 Definitions
"Carriage" means the whole or any part of the carriage, loading, unloading, handling and any and all other services whatsoever undertaken by the Carrier in relation to the Goods.
"Carrier" means vessel owner or vessl sharer
"Container" includes any container (including an open top container), flat rack, platform, trailer, transportable tank, pallet or any other similar article used to consolidate the Goods and any connected equipment.
"Freight" includes all charges payable to the Carrier in accordance with the applicable Tariff and this bill of lading.
"Goods" means the whole or any part of the cargo and any packaging accepted from the Shipper and includes any Container not supplied by or on behalf of the Carrier.
"Hague Rules" means the provisions of the International Convention for the Unification of Certain Rules relating to Bills of Lading signed at Brussels on 25th August 1924.
"Holder" means any Person for the time being in possession of this Bill of Lading or to whom rights of suit and/or liability under this bill of lading have been transferred or vested.
"Merchant" includes the Shipper, Holder, Consignee, Receiver of the Goods, any Person owning or entitled to the possession of the Goods or of this bill of lading and anyone acting on behalf of such Person.
"Multimodal Transport" arises if the Place of Receipt and/or the Place of Delivery are indicated on the reverse hereof in the relevant boxes.
"Ocean Transport" arises if the Carriage is not Multimodal Transport.
"Person" includes an individual, corporation, or other legal entity.
"Subcontractor" includes owners, charterers and operators of vessels (other than the Carrier), stevedores, terminal and groupage operators, road and rail transport operators, warehousemen, and any independent contractors employed by the Carrier performing the Carriage or whose services or equipment have been used for the Carriage and any direct or indirect subcontractors, servants and agents thereof whether in direct contractual privity or not.
"Terms and Conditions" means all terms, rights, defences, provisions, conditions, exceptions, limitations and liberties hereof.
"US COGSA" means the US Carriage of Goods by Sea Act 1936.
"Vessel" means any water borne craft used in the Carriage under this bill of lading which may be a feeder vessel or an ocean vessel.