CHINA-EUROPE RAILWAY EXPRESS(2/2)
Views: 479 Author: Site Editor Publish Time: 2018-09-17 Origin: Site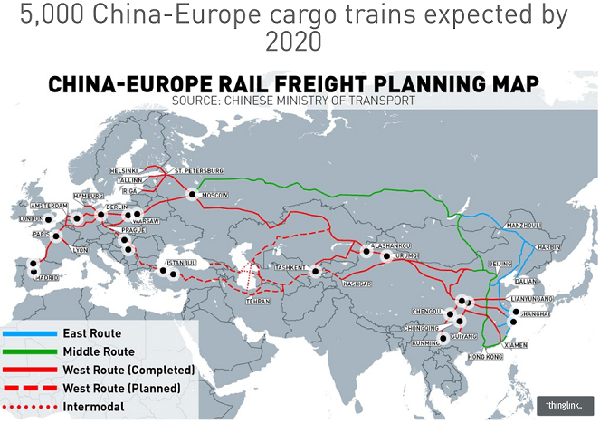 continued
11.China-Europe railway express(xining to Antwerp).It takes about 12 days to run the first china-europe railway express in Tibet Plateau from the shuangzhai railway logistics center in xining, qinghai province to Antwerp, Europe's second largest container port in Belgium.
12. China-Europe railway express(guangzhou to Moscow).It opened on August 29, 2016, starting from guangzhou Dali station, and departing from manzhouli through Moscow, Russia.The whole distance is about 11,500 kilometers
13. China-Europe railway express(Qingdao to Moscow).On June 24, 2017, under the supervision of the Qingdao customs, the train carrying 41 containers started from the Qingdao multi-modal transport customs supervision center and left through the manzhouli port to Moscow, Russia, marking the official opening of the china-europe line (Qingdao).The container contains local machinery equipment, tire rubber, household appliances and other goods in Qingdao.The entire route covers 7,900 kilometers and total distance is about 22 days
14. China-Europe railway express(changchun to Hamburg).A china-europe international freight train loaded with auto parts and textiles leaves changchun international port on oct 13, 2017, with 42 carriages leaving manzhouli for Hamburg, Germany.With the launch of china-europe train from changchun to Hamburg, changchun international port was officially opened.The train, operated by China railway container transport co., LTD., started in several cities in European countries such as Russia, belarus, Poland, Belgium and Germany, with a maximum speed of 120 kilometers per hour and a journey of about 12-15 days
15. China-Europe railway express(nanchang to Moscow).The first china-europe rail line (nanchang-moscow) in nanchang is set sail at the tangtang railway port, marking the official opening of the china-europe rail line from nanchang to Moscow, April 20, 2018
16. China-Europe railway express(tangshan to Belgium).An international container train bound for Antwerp, Belgium, leaves the jingtang port area of tangshan port on April 26, 2018.The train started from the port of tangshan, Beijing and tanggang, and passed through Beijing, Hohhot, baotou, hami and urumqi. It passed through the port of alashankou and reached Antwerp, Belgium through kazakhstan, Russia, belarus, Poland and Germany
17. China-Europe railway express(chengdu to Vienna) on April 27, 2018, the first china-europe rail direct to Vienna, Austria arrived at the destination.The first china-europe train to Vienna started from chengdu on April 12, traveling 9,800 kilometers across six countries of Asia and Europe
18. China-Europe railway express(wuhan to Hamburg, Germany) 28 was shipped from hubei xiangyang north station, the first visit to han's "duct" international freight trains carrying dongfeng-citroen automobile co., LTD., xiangyang factory enterprise production such as engine, auto parts, bearings, instrument, etc., the Hong Kong international airport in wuhan railway union of central railway station use han European trains, to go through the ala shan kou, bound for 12000 miles away in Hamburg, Germany
19. China-Europe railway express(Inner Mongolia autonomous region to southeast Iranian city of bam) central European trains ready for shipment at the salang logistics park on sept 4, 2018.Another international freight railway line from the Inner Mongolia autonomous region has been opened.The first train, carrying 41 containers worth about 10 million yuan, left the salang logistics park in the southeast of Hohhot and arrived 15 days later in the south-eastern Iranian city of bam, more than 9,000 kilometers away.
China-Europe railway express(urumqi to duisburg, Germany) on May 28, 2016, the first international freight train from urumqi to duisburg left the urumqi platform.Starting from xinjiang, China to Germany (urumqi to duisburg) west bound international freight train.The starting route is estimated to take 10 days each way, with a total distance of 8000 kilometers